Testimonials
Mindful Music
Our Mindful Music launch was a very special pilot project, supporting adult carers during the winter lockdown.
In this video they describe their experience of attending the therapy groups.
Feedback from our family Music Therapy groups
Our West Berkshire and Surrey Family Music Therapy groups were rated "very useful" for building children's communication skills, social skills, and self-confidence.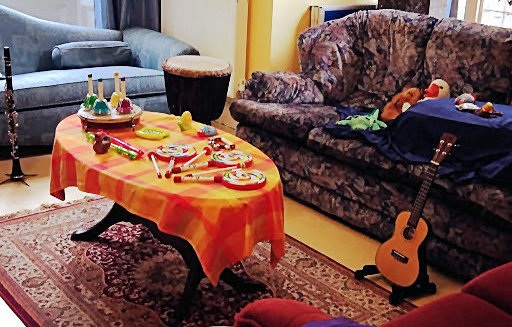 What parents say
"Thank you so much. We really enjoyed coming and found it great fun"
"My son asks for music time nearly every day after school. He's using the Hello and Goodbye songs to say goodbye and greet people. Music is great for calming him and he constantly smiles through the group"
"Loved the choice of instruments that he could try"
"It was inclusive of our needs despite [our child] being much younger and less able than classmates"
What adults say
"The sessions taught me new skills – linking visualisation with music. Now when I listen to that music, it takes me back there, relaxes me, and keeps me there, and looking at the drawings makes me smile"
—Mindful Music participant
"Mindful Music has really helped me a lot. I'm looking for things that are uplifting in my life… and I'm finding it easier to find them, focus and feel calmer"
—Mindful Music participant
"I like coming to music because [the teacher] makes it fun. And singing Disney songs help me sing and laugh"
—Community music participant
"I like the whole group. We've got an amazing teacher and it's made me learn how to sing in public"
—Community music participant



Privacy
If you sign up via this form, your data will be processed by Mailchimp and used solely for keeping you informed of Whole Step CIC's activities. It will not be shared with anyone else.
You can cancel your subscription at any time, and the confirmation you receive when subscribing will include a link to enable you to do this quickly and simply.
Keep in touch
Sign up to our mailing list to find out about our new therapy projects, watch our community music performances, or find out when our next big sing-along project is being launched